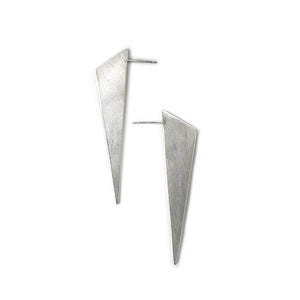 These geometric earrings can go from casually elegant to rock out edgy. Each pair is hand crafted from sterling silver. Each earring hangs projected from the earlobe for a unique three dimensional look.
Material: Sterling silver earring, posts, and backs.
Dimensions: Sterling silver earring projects nearly 1/2" from the lobe and hangs 1 3/4." Overall 2" long.
Care: Avoid acids, soaking, and polishing compound, these will destroy the finish.
Shipping: Ready to ship via USPS First Class shipping.